JESUS Film Harvest Partners (JFHP) is a ministry which partners with other Kingdom ministries to make Christ-like disciples in the nations.
JFHP is involved in:
evangelism
discipleship
church development
leadership training
pastoral education
Harvest Partners are those who invest in the ministry through their time, influence, money, and expertise. They support local work and teams who share JESUS with their neighbors in 135 countries.
The Return on Investment is: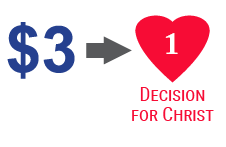 For every $3 given, one person makes a decision for Christ.
Lots of laughs and fellowship          Featured Event
Generations
Community Church
8240 64th St NE Marysville, WA 98270 United States 360.659.4629 office@generationscommunity.org